The Aloha State
The Aloha State
Hawaii, the 50th state, lies in the center of the Pacific Ocean between Asia and the continental United States. Its geography, history, and people make the state an ideal link between the East and West.
Our Islands
Hawaii's islands stretch across 10,932 square miles, with a land mass of 6,423 square miles. The beauty of the state—its mountains, oceans, and beaches; perfect tropical weather cooled by tradewinds; and its unique host culture have lured millions of visitors from all over the world. Isolated by miles of ocean on all sides, many indigenous plants and animals exist only in Hawaii. There are more endangered species per square mile on these islands than any other place on the planet.
Our People
Hawaii is home for close to 1.4 million people. Native Hawaiians, who sailed to the islands from Tahiti between the 3rd and 7th centuries AD, are the indigenous people of Hawaii. The Hawaiian archipelago became known to the western world when British Captain James Cook and his crew first sighted the islands in 1778. American and European whalers, merchants, and missionaries arrived. With the growth of the sugar industry, laborers for the cane fields were imported from Portugal, Puerto Rico, China, Japan and Okinawa, Korea, and the Philippines. Many of them stayed, creating the multicultural society of today's Hawaii.
Elected Officials
U.S. Senators
Mazie Hirono

DC Office

330 Hart Building

Washington

,

DC

20510

Brian Schatz

DC Office

722 Hart Building

Washington

,

DC

20510
U.S. House of Representatives

State Officials
David Ige

Office of the Gov.

Exec. Chambers

State Capitol

Honolulu

,

HI

96813

Shan S. Tsutsui

Office of the Lt. Governor

State Capitol

Honolulu

,

HI

96813
State Flag:
State Seal: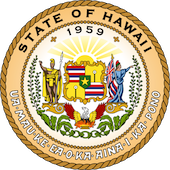 Nickname:
The Aloha State
Capital:
Honolulu
Population:
1.392 million
Web Site:
State Tree:
Kukui
State Flower:
Yellow Hibiscus
State Bird:
Nene (Hawaiian Goose)