December 13, 2014
US Senate Approves $1.1 Trillion Government Funding Bill
But Hirono of Hawaii joins Democrats Warren and Levin as well as Republicans Cruz, Rubio and Paul in voting "no."
The federal government will remain funded through next September, assuming President Barack Obama signs the $1.1 trillion spending bill approved by the U.S. Senate late Saturday evening in Washington, D.C.
The vote was 56-40, which came after surviving a lopsided cloture vote that cut off debate on the legislation. Obama has indicated he will sign the measure, despite strong objections from members of his own party.
The same measure was approved by the U.S. House of Representatives Thursday in a 219-206 vote that saw Hawaii's two representatives, Colleen Hanabusa and Tulsi Gabbard, voting "no" because of objections regarding the bill's roll back of regulations on Wall Street and the allowing of increased contributions to political parties.
In the Senate, Hawaii's senators split, with Brian Schatz voting for the measure and Mazie Hirono voting against it.
In voting "no," Hirono cited the same objections as her Hawaii House colleagues. She was among the 22 Democrats who voted against the measure, including Elizabeth Warren (of Massachusetts), Carl Levin (Michigan) and Al Franken (Minnesota).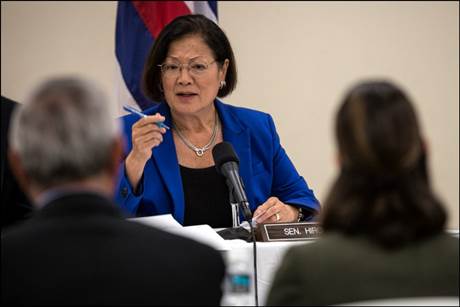 "The price of funding government programs for only one year should not be permanent changes to laws that will have lasting impacts on working families for years to come and that is why I could not in good conscience support this bill," Hirono said in a statement after the vote. "I respect the right of every Senator to vote his or her conscience on every difficult vote. And this was a difficult vote."
Hirono added, "Despite the differences reflected in this vote, my hope is that we will go forward to do our work so that the outcomes will reflect clearly that we are on the side of working, everyday American people."
Like Hirono, Republicans Ted Cruz (Texas), Rand Paul (Kentucky) and Marco Rubio (Florida) also opposed the funding bill.
Cruz, Rubio and Paul are among the GOP candidates who have expressed strong interest in running for president in 2016. Warren, meanwhile, is the darling of left-leaning Democrats that want her to run for president, too, even though Hillary Clinton is widely viewed as the frontrunner. Warren has thus far said she is not interested.
Also voting against the bill was Bernie Sanders of Vermont, an independent who caucuses with Democrats and who is also weighing a presidential bid.
As the Hill Reports about the dramatic vote, "The debate exposed divisions within the Democratic and Republican caucuses on both sides of the Capitol and sets the stage what could be a year of internecine squabbling in 2015."
Hirono stood by her "no" vote.
"Important government programs that support our families and communities should not be held hostage to get permanent changes to laws that undermine the middle class. This bill revises pension laws in a way that breaks a longstanding commitment to retirees and working people," she said in a press release. "In Hawaii this change could impact some 37,000 union members and their families. This bill waters down hard-fought limits on Wall Street recklessness and lifts the ceiling for political contributions to parties at a time when the flood of big money in our democracy is a matter of national outrage."
Read the entire piece at: http://www.civilbeat.com/2014/12/us-senate-approves-1-1-trillion-government-funding-bill/.
By: Chad Blair
Source:
Civil Beat
---
---
Next Article
Previous Article