WASINGTON, D.C.- Senator Mazie K. Hirono and the Chamber of Commerce Hawaii celebrated the success of nearly 70 participating Hawaii businesses at the Fourth Annual Taste of Hawaii on Capitol Hill this evening. Attendees were greeted with fresh orchid lei, and learned about an array of Hawaii businesses representing technology, agriculture, and transportation.
 "Every year, more and more Hawaii businesses come to Hawaii on the Hill because they make connections that are meaningful," said Senator Hirono. "It's more important than ever that Hawaii businesses connect directly with policy makers, and I look forward to continuing to work with Sherry and the Chamber of Commerce Hawaii team, who are instrumental in making Hawaii on the Hill possible."
 "The Chamber of Commerce Hawaii is proud to partner with Senator Hirono and her team for the fourth time in leading the effort to bring Hawaii to Washington, D.C.," said Chamber of Commerce Hawaii President & CEO Sherry Menor-McNamara. "This week has been a great opportunity for companies to showcase our state's pride, melting pot cuisine, customs, industries and ideas. Taste of Hawaii on Capitol Hill especially allows our state's companies a chance to meet Congressional leaders and industry representatives to learn about resources that are available to help them grow their businesses and discuss how our industries play a major role in our nation's economy."
 Sixty-nine businesses, representing all Hawaii counties showcased their unique products and services.
Hawaii on the Hill, a partnership between Senator Hirono and the Chamber of Commerce Hawaii, is a two-day event in our nation's capital that gives Hawaii businesses the opportunity to meet directly with news and policy makers while also showcasing Hawaii businesses and products to Members of Congress and the Washington, D.C. community.
Click here to download high quality photo 
Left to right: The Lappert's Hawaii team shares ice cream with Senators Chuck Schumer (D-N.Y.), Hirono, and Chris Coons (D-Del.)
Click here to download high quality photo 
Senator Hirono with the Orchid Lei Company's Rebecca Sinn, Sukit Kanaprach, and their daughter Jocelyne Kanaprach
Click here to download high quaity photo 
Senator Hirono greets volunteers who passed out Hawaii-made products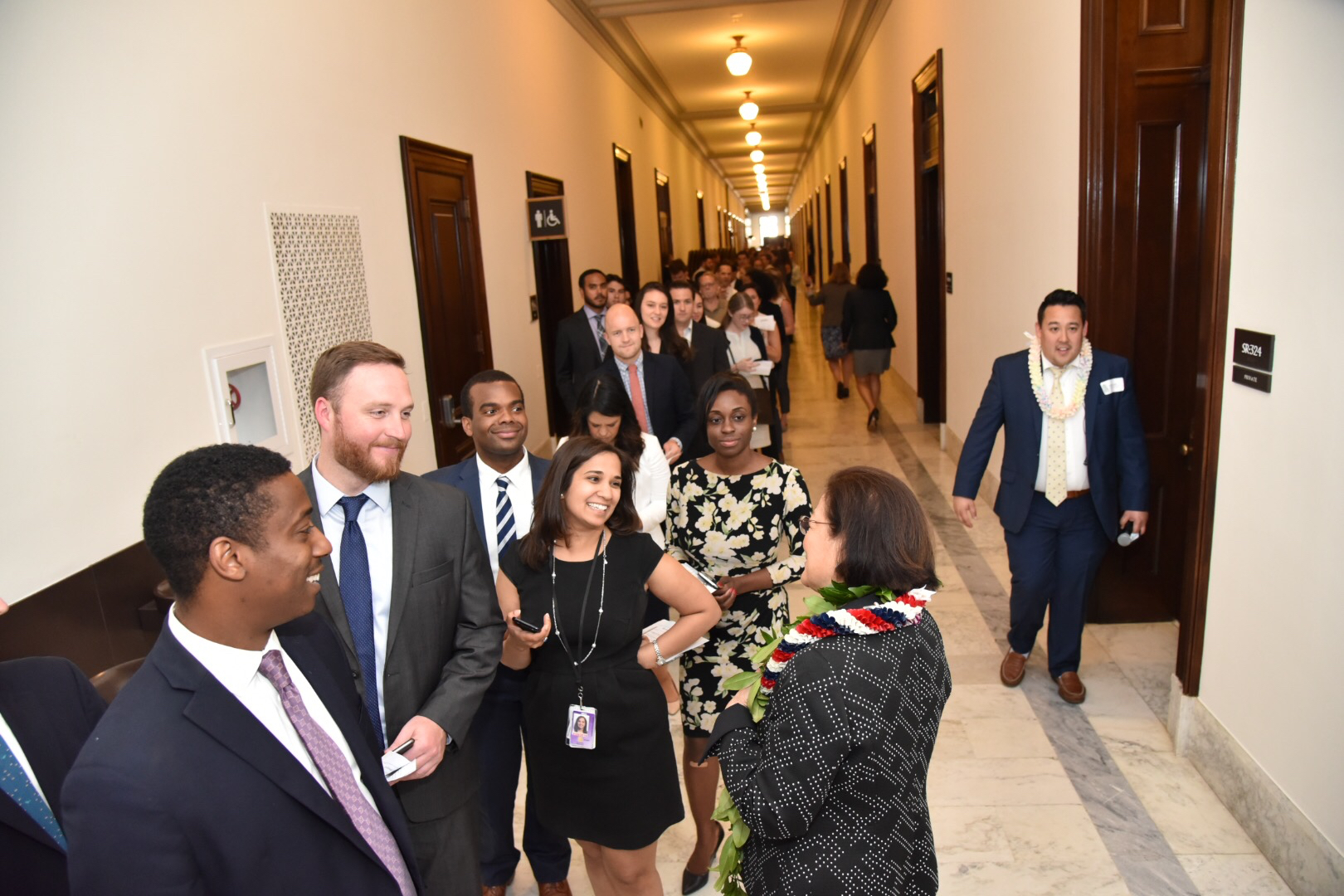 Click here to download high quality photo
Senator Hirono greets guests waiting to get into the Taste of Hawaii on Capitol Hill. The line to get in wrapped around the Russell Senate Office Building
###