May 06, 2014
HIRONO CONGRATULATES HAWAII STATE SENATOR JILL TOKUDA ON 'CHAMPION FOR CHARTERS' AWARD
National Alliance for Public Charter Schools Issued Awards to State Senator Tokuda, U.S. Senator Mary Landrieu, U.S. Senator Mark Kirk, and U.S. Representative George Miller, Among Others
WASHINGTON, D.C. – Senator Mazie K. Hirono issued the following statement congratulating Hawaii State Senate Education Committee chairwoman, Jill Tokuda, on receiving a 'Champion for Charters' award this evening.
"Access to education can make all the difference in the lives of our keiki," said Senator Hirono. "I consider Jill a dear friend and am so pleased that her hard work to improve education for all students is being recognized today. In 2012, Jill's task force on charter school governance and her state bill led to dramatic improvements in transparency and accountability in Hawaii's charter school law – increasing Hawaii's ranking from 35th in the nation in 2012 to 14th in 2013. I have visited many of Hawaii's public charter schools, which are doing innovative work around Native Hawaiian culture-based education and sustainability. I applaud Jill's leadership on this and many other issues in the education arena and look forward to working together so that each and every student in Hawaii can attain a quality education."
The National Alliance for Public Charter Schools celebrated federal, state, and local elected policymakers for their leadership, including U.S. Senator Mary Landrieu (LA), U.S. Senator Mark Kirk (IL), U.S. Representative George Miller (CA), Governor Andrew Cuomo (NY), Governor Brian Sandoval (NV), State Representative Phil Owens (SC), and Mayor of Sacramento, Kevin Johnson (CA).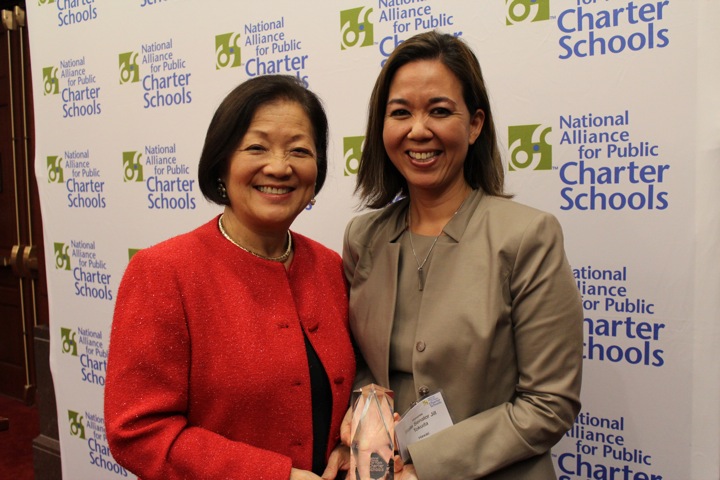 ---
---
Next Article
Previous Article