June 08, 2016
Hirono Connects Hawaii Businesses With Top Federal Policy Makers
Hosts Third Annual Hawaii On The Hill Policy Summit
WASHINGTON, D.C.- Senator Mazie K. Hirono today welcomed nearly 75 members of Hawaii's business community to Capitol Hill for the Third Annual Hawaii on the Hill Policy Summit. Business owners representing diverse industries – including manufacturing, health care, transportation, and others – participated in the event.
"We started Hawaii on the Hill three years ago to give Hawaii businesses a direct line to federal decision makers. I'm pleased that in our third year, we were able to connect over 50 participating businesses with top officials." said Senator Hirono. "I look forward to continuing these conversations on how we can support local businesses throughout the year."
"The Policy Summit is a really important aspect of Hawaii on the Hill—it brings government representatives from different agencies to talk about some of their services and how they can help businesses in Hawaii," said Chamber of Commerce of Hawaii President and CEO Sherry Menor-McNamara. "Connecting with our Congressional delegation and federal agencies is a great opportunity for Hawaii businesses to get an inside perspective from policymakers in Washington, D.C. on a wide variety of issues that are important to Hawaii."
Senator Hirono and Chamber of Commerce of Hawaii President and CEO Sherry Menor-McNamara kicked off the Policy Summit, which included remarks and question and answer sessions from:
Alejandro Mayorkas, Deputy Secretary of the U.S. Department of Homeland Security, who provided information on federal support for growing Hawaii's international visitor industry.
Maura Calsyn, Director of Health Policy for the Center for American Progress, who discussed the Affordable Care Act's outlook for small businesses.
David Friedman, Assistant Secretary (Acting) for Energy Efficiency and Renewable Energy for the U.S. Department of Energy, who answered questions about Hawaii's renewable energy commitments.
Justin Tanner of the Minority Business Development Agency and Stuart Ishimaru of the U.S. Consumer Financial Protection Bureau, held a small business panel to raise awareness about federal resources available to Hawaii's small businesses.
Alexis Taylor, Deputy Under Secretary for Farm and Foreign Agricultural Services at the U.S. Department of Agriculture, who discussed promoting the Hawaii brand.
Kimberly Vitelli, Deputy Administrator of the Department of Labor Employment and Training Administration's Office of Workforce Investment, who discussed federal funding opportunities for workforce training.
Senator Charles Schumer (D-NY) closed out the Policy Summit by thanking Senator Hirono for her dedication representing Hawaii in the U.S. Senate, and recapping Senate Democrats' fight for comprehensive immigration reform.
Hawaii on the Hill, a partnership between Senator Hirono and the Chamber of Commerce Hawaii, is a two-day event in our nation's capital that gives Hawaii businesses the opportunity to meet with federal officials while also showcasing Hawaii businesses and products to Members of Congress, Administration officials, and the Washington, D.C. community.
Senator Hirono introduced U.S. Department of Homeland Security Deputy Secretary Alejandro Mayorkas and Hawaii State Senate President Ron Kouchi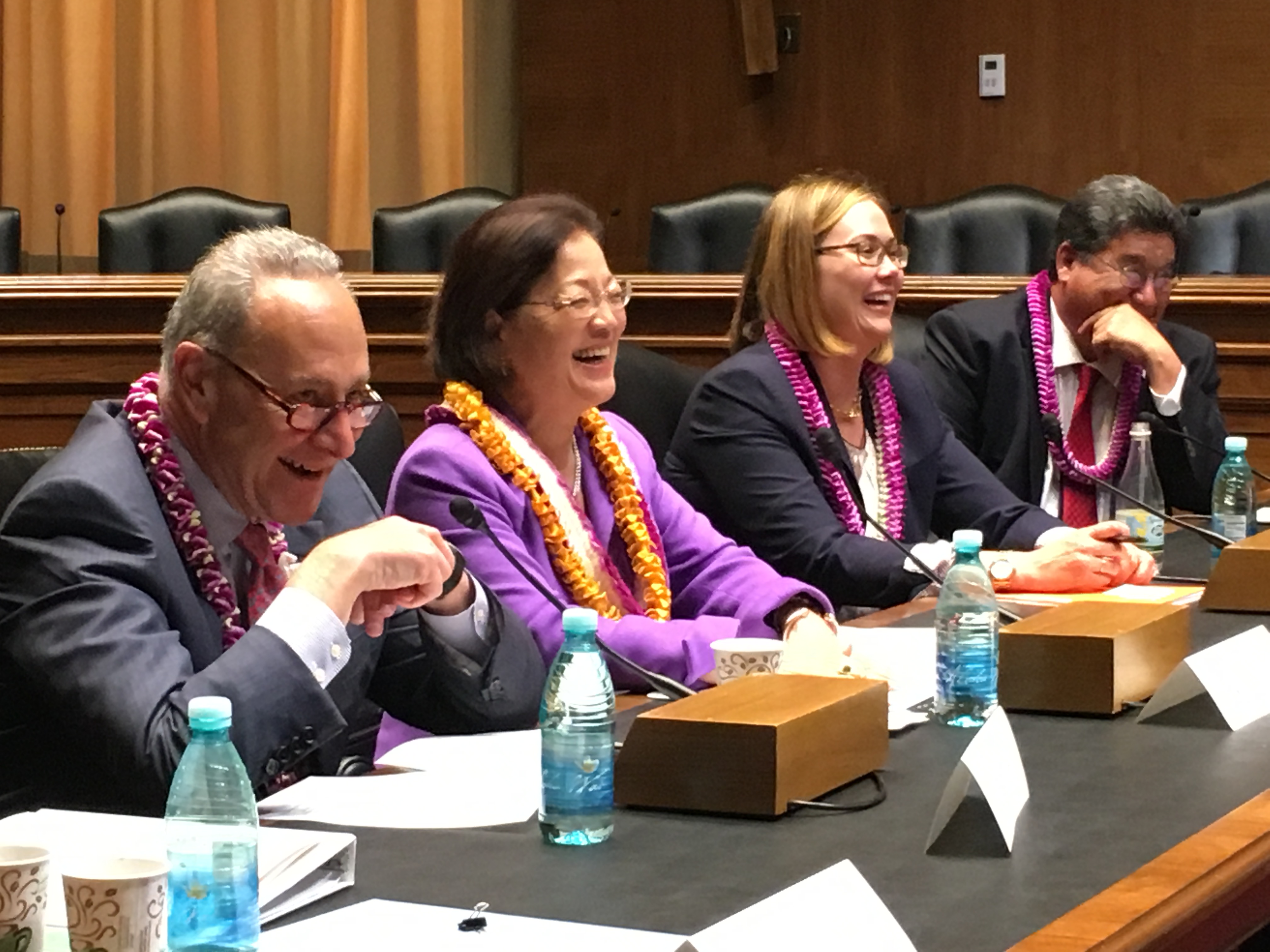 Left to right: Senator Charles Schumer (D-NY), Senator Hirono, U.S. Department of Agriculture Deputy Under Secretary for Farm and Foreign Agricultural Services Alexis Taylor, and Hawaii State Senate President Ron Kouchi
---
---
Next Article
Previous Article