August 26, 2013
HIRONO FEATURED IN JAPAN AIRLINES' IN-FLIGHT MAGAZINE
Hirono Discusses Her Childhood In Japan And Stresses Importance Of Hawaii-Japan Relationship
Honolulu, HI – Senator Mazie K. Hirono, the first Japanese immigrant to serve in the Senate and Co-Chair of the Congressional Study Group on Japan, discussed her childhood in Japan and stressed the importance of the Hawaii-Japan relationship in an interview featured in Japan Airlines' (JAL) Eheu in-flight magazine. The piece is running in the summer 2013 edition of the quarterly magazine, which is available on flights from Japan to Hawaii. The magazine helps promote Hawaii as a premier destination for both tourists and business travelers from Asia, an issue that has long been a priority for Hirono. One of the largest airlines in the world, JAL reportedly brings nearly two-thirds of all Japanese tourists to Hawaii.

Hirono spoke on a variety of topics, including climate change and the need to promote sustainable energy in Hawaii. She also praised joint U.S.-Japan efforts to aid Japan's recovery from the devastating Great East Japan Earthquake in 2011. Hirono was born in Fukushima Prefecture, an area heavily damaged by the disaster.

The full text of the article with translation reads below: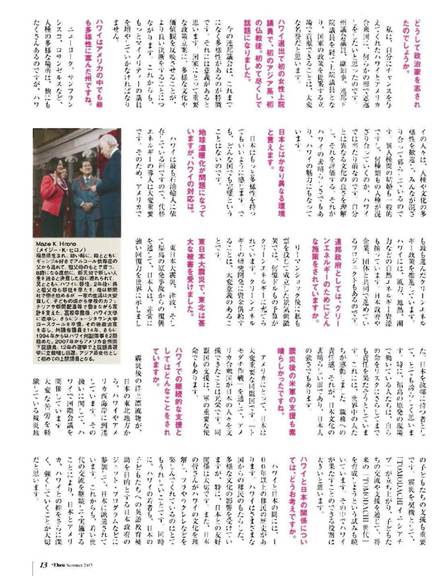 Translation provided by Congressional Research Service:

Only Asian-American Woman in the U.S. Senate Wants to Deepen and Strengthen the Bonds between Japan and Hawaii

Mazie Hirono, who became the first Asian-American woman in the United States Senate by winning in the federal elections last year, is the first senator to be born in Japan and become a naturalized American citizen after immigrating to Hawaii.

Hirono, who has been involved with politics in Hawaii for many years and has a unique background, spoke with us not only about politics, but also about her thoughts on Hawaii and Japan.

You were born in Japan, right?
Since I lived in Japan for nearly eight years after being born there, I still have many fond memories of it. In particular, there were many fruit trees on my grandparents' farm in Fukushima. We were a poor family, but we were the only home in the neighborhood that had an apricot tree, and there was a wealth of apples, persimmons, peaches and other fruits. I remember very well the time spent putting bags of apples with my grandmother and friends.

What brought you to Hawaii?
Since my mother was an American citizen, she decided that we could lead a better life in the United States before I was eight years old, and we all moved here. After we came to Hawaii, my mother really worked as hard as she could to raise us.

What difficulties did you encounter with the move from Japan?
Adapting to a different culture was pretty difficult. I could not speak English in the beginning. Every day, as I returned home from school, I counted out loud from 1 to 100 in English. By doing this, I trained myself to become familiar with English. In addition, I did not do well with the American diet in the beginning. I did not really like butter. Now I can eat anything.

Would that be the influence of your mother?
It is my mother who changed my life. I will always respect the courage and strength of my mother who immigrated to Hawaii with nothing. While working herself to the bone, she taught us that if we made an effort, we could do anything and there was nothing we could not do. I think I am what I am because of this. My mother is now 88 years old, but thankfully, she is healthy.


With her mother, Laura Chie Hirono


Why did you decide to become a politician?
I wanted to give back in some way to Hawaii and the United States for giving me a chance. Having been in the state legislature, having been a lieutenant governor, and then in the U.S. House of Representatives before the Senate, I think that being able to contribute from the standpoint of making proposals on national policy is a very great honor.

You have become a big topic as the first woman senator elected from Hawaii, the first Asian-American, the first Buddhist and the first of all of these.
Now more than ever, the salient characteristic of Congress is diversity. I think that is significant. Having various cultures and values reflected in formulating policies that are important to the nation leads to better decisions. We must increase the number of minority legislators even more as we move forward.

Hawaii is the most diverse state in the United States, right?
There are many places with racial diversity, such as New York, San Francisco and Los Angeles, but the people of Hawaii welcome diversity in race and culture, and all of these are mixed up in our daily lives. Interracial marriage is typical, and the intermingling of the races, no matter what the race, is normal in Hawaii. We place a value on understanding a culture that is different from our own. This is the magnificence of Hawaii and has become an attraction of Hawaii.

You can say that it is very different from Japan.
I feel it would be good for Japan to have more diversity. However, no country is perfect.

How is a Hawaii dealing with the problem of global warming?
Since Hawaii is the state that is most dependent on oil imports, it is very important that we introduce alternative energy. Therefore, we are promoting the most advanced clean energy policies in the United States. Natural energy sources like wind power, geothermal power and tidal power are also available in Hawaii. There are also projects being moved forward in collaboration with the Japanese government, industry and other organizations.

What measures for clean energy is the federal government implementing?
After the Lehman Brothers crisis, several billion dollars in the budget were devoted to clean energy with the economic stimulus package, and I voted for it. It is very significant to provide funding to research and development of clean energy.

The northeastern part of Japan was severely damaged in the Great East Japan Earthquake.
In the recovery from the Great East Japan Earthquake, the tsunami and the accident at the nuclear power plant in Fukushima, the Japanese showed the world very powerful resilience. As someone whose original home was in Japan, I was very proud. In particular, the people who work at the nuclear power plant in Fukushima are risking their own lives to fulfill their responsibilities. People all over the world have been impressed with this. The sense of responsibility to their duties is one of the magnificent aspects of the Japanese culture, and it is a strength of the Japanese.

The support by the U.S. Armed Forces after the earthquake was also magnificent!
Japan is a very important ally for the United States. It was an honor for the United States to be able to help the people of Japan through Operation Tomodachi. Supporting our allies is an important mission of the military.

What is there in terms of ongoing support in Hawaii?
Offshore flotsam from the earthquake is reaching the western shores of Hawaii and the US mainland from the Tohoku region of Japan. We are holding an international conference in Hawaii concerning how to handle it. It is also important to support the children of the affected areas. They have undergone tremendous hardship. The "TOMODACHI Initiative" has been established as a result of the earthquake, and we would like to try to continue fostering a "TOMODACHI generation" through exchanges and support involving children. I think the role that Hawaii can play in implementing this is very great.

What are your thoughts on the relationship between Hawaii and Japan?
Hawaii and Japan have a history of immigration for over 100 years. Hawaii has taken in immigrants from various countries and has been affected by a variety of cultures, but the friendly relations with Japan are very important. In addition, I am very glad that the Japanese understand the Hawaiian culture and enjoy the hula and ukulele. At the same time, young Hawaiians have participated in the Japanese government's JET Program, which has the goal of helping with English education for Japanese children, and have been sent to Japan. I think that it is important that the bonds between Japan and the United States, as well as Hawaii, be deepened and strengthened by continuing to implement exchanges among those in the younger generations as we move forward.
Mazie K. Hirono was born in Fukushima Prefecture. She was raised by her grandparents to avoid her alcoholic father, who along with her mother, was fond of gambling. Just before she was eight years old, her mother decided to start a new life in a new world, immigrating with her and her older brother to Hawaii. Two years later, her younger brother and grandparents also immigrated. Her mother started working at a newspaper, but the family lived in extreme poverty. She helped support the family finances by working in the school cafeteria, and delivering newspapers from the time she was a child. After graduating from high school, she went on to the University of Hawaii, and then graduated from Georgetown University Law School. She then set her sights on being a politician, serving 14 years in the state legislature, and two terms as the Lieutenant Governor of Hawaii, starting in 1994. Beginning in 2007, she served in the US House of Representatives. She was a candidate for the U.S. Senate in the 2012 election and was elected. She is the first Asian-American woman in the Senate.

Eheu, Summer 2013
---
---
Next Article
Previous Article