October 17, 2017
Hirono Grills D.C. Circuit Nominee on Past Opposition to Native Hawaiian Rights
WASHINGTON, D.C. – Senator Mazie K. Hirono grilled Greg Katsas, a nominee to serve on the U.S. Court of Appeals for the D.C. Circuit, about his past opposition to Native Hawaiian rights during his confirmation hearing before the Senate Judiciary Committee today.
As a senior official in the George W. Bush Justice Department, Mr. Katsas testified against the Native Hawaiian Government Reorganization Act, also known as the Akaka Bill, during a Senate hearing in 2007. In his testimony, Mr. Katsas said the Akaka Bill "would create a race-based government offensive to our Nation's commitment to equal justice and the elimination of racial distinctions in law."
"Native Hawaiians are an indigenous people entitled to the same rights as Native Americans and Alaska Natives," Senator Hirono said. "After Mr. Katsas refused to repudiate his past statements about Native Hawaiians and his opposition to the Akaka Bill, I am deeply concerned about his ability to remain objective in future legal proceedings on this matter."
In 2016, the Department of the Interior issued a final rule on "Procedures for Reestablishing a Government-to-Government Relationship with the Native Hawaiian Community." The D.C. Ciruit could hear legal challenges to the rule, which would provide a pathway for Native Hawaiian Community to achieve self-determination.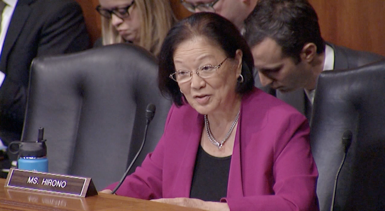 Click on the photo above to watch video from the hearing
Last week, Senator Hirono denounced the Trump Administration's proposed cuts to Native Hawaiian housing and education programs in a speech to the Council for Native Hawaiian Advancement's Native Hawaiian Convention in Honolulu.
Earlier this month, Senator Hirono introduced a bill to reauthorize the Native American Housing Assistance and Self-Determination Act (NAHASDA), which provides federal housing assistance and housing loan guarantees for Native Hawaiians.
###
---
---
Next Article
Previous Article