February 21, 2014
HIRONO HOSTS SENATOR DURBIN ON HAWAII MILITARY BASE TOURS
Durbin Succeeded Senator Daniel K. Inouye As Chairman Of Powerful Defense Appropriations Subcommittee
HONOLULU, HI – Senator Mazie K. Hirono spent the beginning of her week hosting Senator Dick Durbin (D-IL) for meetings with military leaders and defense industry partners in Hawaii. Both Senators met with Admiral Samuel Locklear, the commander of U.S. Pacific Command and the service component commanders for the Pacific. They discussed diverse topics from humanitarian assistance and disaster relief to energy security and military readiness. Their discussion reinforced the importance of Hawaii's military presence in the Asia-Pacific as the U.S. works to further develop new partnerships and strengthen alliances.
Senator Hirono joined KHON2's morning show team to discuss the visit – you can view the live interview here, the short news update here, and the evening news coverage here.

Senator Brian Schatz joined the Hirono CODEL to meet with Hawaii Adjutant General Maj. Gen. Darryll Wong at Wheeler Army Air Field for an update on Hawaii Army National Guard facilities and received updates on statewide military infrastructure in a UH-60 Black Hawk helicopter.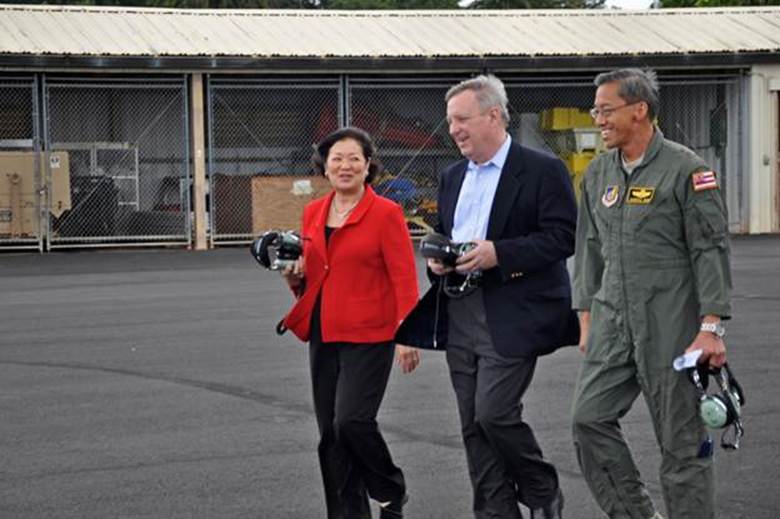 At Hickam Air Force Base, the Senators visited the newly constructed F-22 fighter jet support complex. They discussed how capabilities at Hickam provide combat support and rapid mobility in the Pacific region, which covers more than half of the globe.
The Senators toured Pearl Harbor Naval Shipyard, home of the Navy's regional maintenance center and Hawaii's largest industrial employer. During their time at the facility they received briefings on the modernization plan, submarine and surface ship product lines, workforce development and specialized services unique to our shipyard.
Lastly, at a reception honoring Senator Durbin hosted by the Chamber of Commerce of Hawaii's Military Affairs Council, Senator Hirono delivered remarks and responded to questions about important issues facing our military's readiness. She was joined by her fellow members in Hawaii's congressional delegation, Governor Neil Abercrombie, State Senate President Donna Mercado Kim, State Senator Will Espero, and State Representative K. Mark Takai.
---
---
Next Article
Previous Article