Washington, D.C. – Senator Mazie K. Hirono, a member of the Senate Armed Services Committee, joined today with sexual assault survivor advocates and a bipartisan group of Senate colleagues to build support for legislation that would reform the military justice system to make it fairer to survivors of sexual assault. The Military Justice Improvement Act would remove the chain of command's sole decision-making power over whether cases move forward to trial.

"The crime of sexual assault in the military is horrific, and bias and conflict of interest should have absolutely no part in the decision to prosecute," Hirono spoke at today's press conference. "There's no place in the military, which prides itself on good order and discipline, to allow this kind of crime to continue, and we are affecting the young men and women who join our forces simply to serve. For them to be exposed to this kind of behavior, you can only imagine what it does to their desire to serve. It just kills them. This is why I know that what we're doing, this kind of change, is going to help millions of young people who are entering our service over the years."

Hirono also shared her story of meeting a female military leader who witnessed firsthand the inadequacies of the current military justice system. Watch Hirono's remarks from the press conference: http://youtu.be/uLkCXTtQYj4.

Hirono joined a diverse coalition led by Senator Kirsten Gillibrand (D-NY) and including Chuck Grassley (R-IA), Barbara Boxer (D-CA), Lisa Murkowski (R-AK), Richard Blumenthal (D-CT), Rand Paul (R-KY) and Ted Cruz (R-TX). Additional testimony included the personal experiences of Ariana Klay and Ben Klay, former Marines who have shared their tragic story in the Invisible War and ESPN E:60.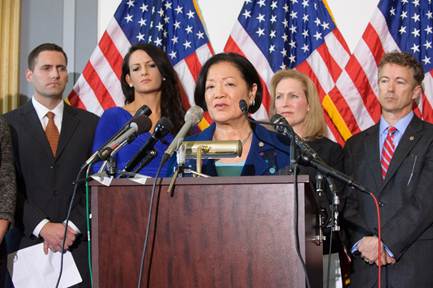 See Senator Gillibrand's full press release below:
FOR IMMEDIATE RELEASE:       
CONTACT: Bethany Lesser (Gillibrand) 202-224-3873
Wednesday, November 06, 2013                               
 Jill Gerber (Grassley) 202-224-6522
Zachary Coile (Boxer) 202-224-8120
Matthew Felling (Murkowski) 202-224-9301
Josh Zembik (Blumenthal) 202-224-6452
Brian Darling (Paul) 202-224-5067
David Miyashiro (Hirono) (202) 224-9813
Catherine Frazier (Cruz) 202-228-7561
Liz Kenigsberg (Shaheen) 202-224-5553
Kevin Kelley (Collins) 202-224-2523
BIPARTISAN GROUP OF SENATORS JOINED BY SURVIVORS, RETIRED GENERAL, ADVOCATES KICK OFF FINAL TWO-WEEK PUSH FOR CREATING AN INDEPENDENT MILITARY JUSTICE SYSTEM -- DEFENSE BILL EXPECTED ON THE FLOOR BEFORE THANKSGIVING
Military Justice Improvement Act Will Be Offered as Amendment to Annual Defense Bill - The Change Required to Give Survivors of Sexual Assault in the Military a Fair Shot at Justice
Momentum Continues to Grow: Defense Advisory Committee Appointed by Secretary of Defense (DACOWITS panel) Recently Voted in Favor of Gillibrand Approach Without a Single Vote Against On the Heels of 3 Retired Generals Coming Out in Support
According to Pentagon Estimates, 25% of Women and 27% of Men Who Received Unwanted Sexual Contact Indicated the Offender Was Someone in Their Military Chain of Command -- More Than 26,000 Incidents of Sexual Assault or Unwanted Sexual Contact Occurred in 2012
Washington D.C. – U.S. Senators Kirsten Gillibrand (D-NY), Chuck Grassley (R-IA), Barbara Boxer (D-CA), Lisa Murkowski (R-AK), Richard Blumenthal (D-CT), Rand Paul (R-KY), Mazie Hirono (D-HI), Ted Cruz (R-TX), Jeanne Shaheen (D-NH), and Susan Collins (R-ME) kicked off their final two week push to create an independent, objective and non-biased military justice system with the 2014 National Defense Authorization Act (NDAA) expected to be debated on the floor before the Thanksgiving recess. The bipartisan Military Justice Improvement Act, to be offered as an amendment on the Senate floor to the Defense bill, is already publicly supported by 46 Senators, including 38 Democrats and 8 Republicans.
This common sense proposal seeks to reverse the systemic obstacles that numerous victims of military sexual assault have described in deciding whether to report the crimes committed against them due to the clear bias and inherent conflicts of interest posed by the military chain of command's current sole decision-making power over whether cases move forward to a trial. The Senators were joined by survivors of sexual assault in the military; a retired Brigadier General and former Pentagon appointee by the Obama administration; and advocates.
The carefully crafted Military Justice Improvement Act moves the decision whether to prosecute any crime punishable by one year or more in confinement to independent, trained, professional military prosecutors, with the exception of 37 crimes that are uniquely military in nature, such as disobeying orders or going Absent Without Leave. The decision whether to prosecute the 37 serious crimes uniquely military in nature plus all crimes punishable by less than one year of confinement would remain within the chain of command. The bill does not amend Article 15 pertaining to non-judicial punishments.
According to the FY2012 SAPRO report released earlier this year by the Defense Department, an estimated 26,000 cases of unwanted sexual contact and sexual assaults occurred in FY2012, a 37% increase from FY2011. Another report released by the Defense Department this year showed that more than 1 in 5 female servicemembers reported experiencing unwanted sexual contact while serving in the military. Also according to the FY2012 SAPRO Report, 25% of women and 27% of men who received unwanted sexual contact indicated the offender was someone in their military chain of command. Further, 50% of female victims stated they did not report the crime because they believed that nothing would be done with their report. Even the current top military leadership admits the current system "has failed" and as Commandant of the Marine Corps General James F. Amos stated this year, victims do not come forward because "they don't trust the chain of command."
"America is home to the world's best and brightest, brave men and women who join the armed services for all the right reasons – to serve our country, defend all that we hold sacred, and make America's military the best the world has ever known," Senator Gillibrand said. "But too often, these brave men and women find themselves in the fight of their lives not off on some far-away battlefield, but right here on our own soil, within their own ranks and commanding officers, as victims of horrific acts of sexual violence. Our bipartisan bill takes this issue head on by removing decision-making from the chain of command, and giving that discretion to experienced trial counsel with prosecutorial experience where it belongs. That's how we will achieve accountability, justice and fairness."
"Sexual assault cases should be handled outside the chain of command to eliminate any potential bias and make victims more comfortable in coming forward," Senator Grassley said. "Sexual assault is a law-enforcement issue. When young adults commit to serving their country and defending our freedoms, they deserve to know their own rights will be protected, including access to justice."
"There is only one fundamental change that will ensure that a charge of sexual assault will be based on the evidence – not any other factor – and that is this bipartisan bill," Senator Boxer said.
"Our men and women in uniform put their blood, sweat and tears into defending American ideals, freedoms and protections at home and abroad; they deserve the same robust defenses in return," said Senator Murkowski (R-AK). "Too often, cases of sexual assault go unreported out of fear of retribution or that nothing will be done – this bill would increase confidence in the military judicial system.  Working to create an unbiased process would improve conditions for not only victims but for the accused."
Senator Blumenthal said, "By closing the small remaining vote gap in coming days, we can assure stronger justice to military sexual assault victims. Victims of this hideous, horrific crime deserve a fairer, more effective justice system – with decisions made by a trained, experienced prosecutor – so they will be better protected and encouraged to report sexual assaults. As the best and strongest military in history, our men and women in uniform deserve a justice system worthy of their excellence. Our legislation is vital to victim trust and confidence in military justice. I am proud to stand with Senator Gillibrand and this broad, bipartisan coalition of advocates and colleagues."
"The vast majority of our service members are honorable and upstanding individuals. In the instance when one is accused of a serious crime, especially one of assault in any form, the allegation needs to be taken seriously," Senator Paul said. "I support Sen. Gillibrand's amendment to not only protect the rights of victims, but also the rights of the accused. This is a necessary change to protect those who are protecting us."
"Our brave men and women in uniform deserve the basic opportunity to face a fair military justice system when reporting sexual assaults. The testimony of survivors is horrific and it is tragic that even more attacks go unreported," said Senator Hirono.
"I proudly support Senator Gillibrand's military justice improvement legislation, which only applies to the most serious crimes in the military, and will enable commanders to focus on their wartime mission and ensure that the rights of both victims and those accused of crimes are protected," said Senator Cruz. Our strongest allies have adopted similar military justice changes and their experience shows us that this can be done without harming the chain of command or military readiness. Senator Gillibrand is to be commended for her leadership on this issue and for accepting critical improvements to the amendment to ensure that crimes that are unique to the military will not be decided by lawyers."
"Sexual assault cannot be tolerated anywhere, including the military. Despite the fact that the Department of Defense has had a zero tolerance policy for 20 years, sexual assaults in the military continue to be a major problem," said Senator Shaheen. "We have to change the way the military investigates and prosecutes these cases. Our bipartisan legislation will implement smart and long overdue reforms."
"I have been terribly disturbed by a seemingly endless stream of allegations of sexual misconduct, and by the fact that, approximately nine years after I first publicly raised the issue of sexual assault with military leaders in 2004, the problem persists at such an alarming rate.  While I believe the vast, overwhelming majority of our military personnel are honorable individuals, we must ensure that justice is swift, fair, and certain for the criminals who have perpetrated these crimes," said Senator Collins.
The problem of sexual assault in the military is not new, neither are the pledges of "zero tolerance" from commanders, which date all the way back to then-Secretary of Defense Dick Cheney in 1992. The Military Justice Improvement Act would for the first time remove the decision whether to take a case to general court-martial completely out of the chain of command and give that discretion to experienced military prosecutors for all crimes punishable by one year or more in confinement, except crimes that are uniquely military in nature, such as disobeying orders or going AWOL.
Over the past several months, retired military leaders have come out in support of the proposal. Among others, Lt. General (Ret.) Claudia Kennedy – the first woman to reach the rank of three-star general in the U.S. Army; Brigadier General (Ret.) Loree Sutton– formerly the highest ranking psychiatrist in the U.S. Army; Brigadier General (Ret.) David McGinnis – who  most recently served as a President Obama appointee in the Pentagon as the Principal Deputy to the Assistant Secretary of Defense for Reserve Affairs from April 2009-Sept 2012; Former Vermont National Guard Adjutant General and Retired Air Force Major General Martha Rainville – served in the military for twenty-seven years, including fourteen years in command positions and the first woman in the history of the National Guard to serve as a state Adjutant General;  and Former Army JAG officer and former Congressman Patrick Murphy – served with the U.S. 82nd Airborne Division while stationed in Iraq from 2003-2004; all released statements or letters in support of this proposal
In September, the Defense Advisory Committee on Women in the Services (DACOWITS) voted overwhelmingly in support of removing the decision whether to prosecute sexual assaults and other serious crimes from the chain of command. Ten members voted in support of the measure, six abstained to study further, none voted against. DACOWITS was created in 1951 by then Secretary of Defense, George C.  Marshall. The Committee is composed of civilian and retired military women and men who are appointed by the Secretary of Defense to provide advice and recommendations on matters and policies relating to the recruitment and retention, treatment, employment, integration, and well-being of highly qualified professional women in the Armed Forces. Historically, DACOWITS' recommendations have been very instrumental in effecting changes to laws and policies pertaining to military women. Secretary Chuck Hagel was recently quoted as saying, "I have a put a premium on that advisory board."
Many of our allied modern militaries have reporting outside of the chain of command, such as Britain, Canada, Israel, Germany, Norway and Australia. For example, the British military has prosecutors making trial decisions for all crimes through the Service Prosecuting Authority (SPA) within Britain's Ministry of Defense. Four allied commanders recently testified to the Response Systems Panel that these changes to their military justice systems had no negative consequences to good order and discipline.
Just yesterday, three leading veterans groups -- the Service Women's Action Network (SWAN), Iraq and Afghanistan Veterans of America (IAVA), and Vietnam Veterans of America (VVA) – wrote an open letter calling on Congress to pass this bipartisan measure calling it, "a vote for our troops and a vote for a stronger military."
The Military Justice Improvement Act also:
Provides the offices of the military chiefs of staff with the authority and discretion to establish courts, empanel juries and choose judges to hear cases (i.e. convening authority).
This legislation does not amend Article 15. Commanding officers will still be able to order non-judicial punishment for lesser offenses not directed to trial by the prosecutors.
According to the FY2012 SAPRO report released earlier this year by the Defense Department, an estimated 26,000 cases of sexual assault or unwanted sexual contact occurred in FY2012, a 37% increase from FY2011. This number does not include incidents of sexual harassment. The Pentagon defines unwanted sexual contact as:  "…intentional sexual contact that was against a person's will or occurred when the person did not or could not consent. The term describes completed and attempted oral, anal, and vaginal penetration with any body part or object, and the unwanted touching of genitalia and other sexually related areas of the body." 
Of the 3,374 total reports in 2012, 2,558 reports were unrestricted, which means they were actionable. Of those unrestricted reports, 27 percent were for rape, 35 percent were for abusive and wrongful sexual contact, and 28 percent were for aggravated sexual assault and sexual assault.  The remaining cases were for aggravated sexual contact, nonconsensual sodomy, indecent assault and attempts to commit those offenses. 
Also according to the FY2012 SAPRO report, across the Services, 74% of females and 60% of males perceived one or more barriers to reporting sexual assault. 62% of victims who reported a sexual assault indicated they perceived some form of professional, social, and/or administrative retaliation. 
The Senators were joined by Ariana Klay, a former Marine officer assigned to the prestigious Marine Barracks Washington, who graduated with honors from the U.S. Naval Academy in 2006 and subsequently served in Iraq, Ben Klay, served on active duty in the Marines from 2003 through 2007, and was a reservist in 2011, and testified to the Senate Armed Services Committee about his expertise on the military's mishandling of sexual offenses based on his time in the Marines, Nancy Duff Campbell, Co-President of the National Women's Law Center, and Brigadier General (Ret.) David L. McGinnis, former Principal Deputy to the Assistant Secretary of Defense for Reserve Affairs, U.S. Department of Defense, appointed by President Obama.
The Military Justice Improvement Act is supported by:
Iraq and Afghanistan Veterans of America (IAVA) 
Vietnam Veterans of America (VVA)
Service Womens Action Network (SWAN)
Protect Our Defenders (POD)
National Women's Law Center 
National Task Force to End Sexual and Domestic Violence Against Women
National Alliance to End Sexual Violence 
National Research Center for Women & Families 
Jacobs Institute of Women's Health 
Our Bodies Ourselves 
International Federation of Professional and Technical Engineers  
Members of the National Alliance to End Sexual Violence 
9to5 
Baha'is of the United States 
Equal Rights Advocates 
Evangelical Lutheran Church in America 
Federally Employed Women 
Feminist Majority 
Futures Without Violence 
General Federation of Women's Clubs 
GetEqual 
Girls, Inc. 
Hindu American Seva Communities 
Institute for Science and Human Values, Inc. 
Jewish Women International 
Joyful Heart Foundation 
National Capital Union Retirees 
National Center on Domestic and Sexual Violence 
National Coalition Against Domestic Violence 
National Congress of Black Women, Inc 
National Council of Churches 
National Council of Jewish Women 
National Council of Women's Organizations 
National Organization for Women 
National Women's Health Network 
OWL-The Voice of Midlife and Older Women 
Peaceful Families Project 
Presbyterian Women in the Presbyterian Church (U.S.A.), Inc. 
Religious Coalition for Reproductive Choice 
SPART*A, an LGBT Military Organization 
The National Congress of American Indians 
United Church of Christ
Justice and Witness Ministries
V-Day 
Woman's National Democratic Club 
Women's Research & Education Institute 
YWCA USA