March 05, 2014
HIRONO JOINS FAMOUS "NUN ON THE BUS," FAITH LEADERS, WOMEN'S GROUPS AND RESTAURANT WORKER TO PUSH FOR RAISING THE MINIMUM WAGE
In Advance of International Women's Day, Senators and Advocates Urged Republicans to Give 15 Million American Women a Raise
WASHINGTON, D.C. - U.S. Senators Mazie K. Hirono (D-HI) and Barbara Boxer (D-CA) joined religious leaders, women's advocates and minimum wage workers at a press conference today to urge Republicans to support raising the minimum wage to $10.10 per hour, which would lift the wages of 15 million American women.

Nearly two-thirds of those earning the minimum wage are women, and a single mother working full-time in a minimum wage job to support her children earns just $15,000 per year—below the poverty line for a single parent. Ahead of International Women's Day, which is this Saturday, March 8, Senators Hirono and Boxer discussed the importance of passing the Minimum Wage Fairness Act, which would raise the federal minimum wage from $7.25 to $10.10 per hour by 2016, and raise the tipped minimum wage from $2.13 to $7.07 per hour. Both minimum wages would be automatically indexed to inflation afterward.

The Senators were joined at the press conference by Nyah Potts, a restaurant worker who shared her story about struggling to make ends meet while earning the tipped minimum wage and by leaders from Faith in Public Life, the National Women's Law Center, Interfaith Worker Justice and NETWORK, A National Catholic Social Justice Lobby. One of the speakers, Sister Simone Campbell, was also instrumental in organizing the "Nuns on the Bus" tour of nine states to oppose the "Ryan Budget" approved by the House of Representatives.

Watch highlights from the event, including remarks by Hirono, Sister Simone Campbell and Nyah Potts: http://youtu.be/lP4hbRB3CJ8.

"People of all faiths are joining together to answer the call to fight poverty and advocate for the dignity of a living wage. As someone who was raised by a single mother and knows what it is like to live in a minimum wage household, I'm proud to join workers like Nyah who are speaking up about their challenges. We must raise the minimum wage so hardworking families have a chance at building a better life for themselves and their children," said Senator Hirono.

"No one in America should have to live in poverty after putting in a full day's work, and yet that is the case today," Senator Boxer said. "The good news is that when we raise the minimum wage, it will lift the wages of 15 million women nationwide. When we lift the salaries of these workers, it helps their children and their families."

"Pope Francis said that a society that 'does not pay a just wage, that does not give work' to people and that 'only looks to its balanced books, that only seeks profit' is unjust. He says the role of government is to respond to people's needs and ensure the common good," said Sister Simone Campbell, Executive Director of NETWORK, A National Catholic Social Justice Lobby. "In our nation it is unjust that highly profitable companies pay poverty level wages to workers who cannot afford even the basic necessities of life. Therefore, our Christian faith demands that government protect workers, raise the minimum wage thus allowing workers to live in dignity and promote the common good."

"I did not expect that I would be working as hard as I do, spending so much time away from my son, and realizing it is still not enough for me to accomplish my goal of completing my education and providing a better life for my family," said Nyah Potts, who earns a tipped wage at the Aria restaurant in the Ronald Reagan federal building. "Now I live with the fear that if these conditions continue, not only will I not be able to attain my degree, but that going to college will not be an option for my son."

"The minimum wage is a critical women's issue. Women are two-thirds of workers earning the federal minimum wage of $7.25 per hour. Senator Harkin's proposed legislation to increase the minimum wage to $10.10 would give over 15 million women a raise, including almost five million working moms. Poll after poll shows strong public support for raising the minimum wage, and that support is particularly solid among women. It's time for Congress to join the rest of the country and raise the minimum wage," said National Women's Law Center Co-President Nancy Duff Campbell.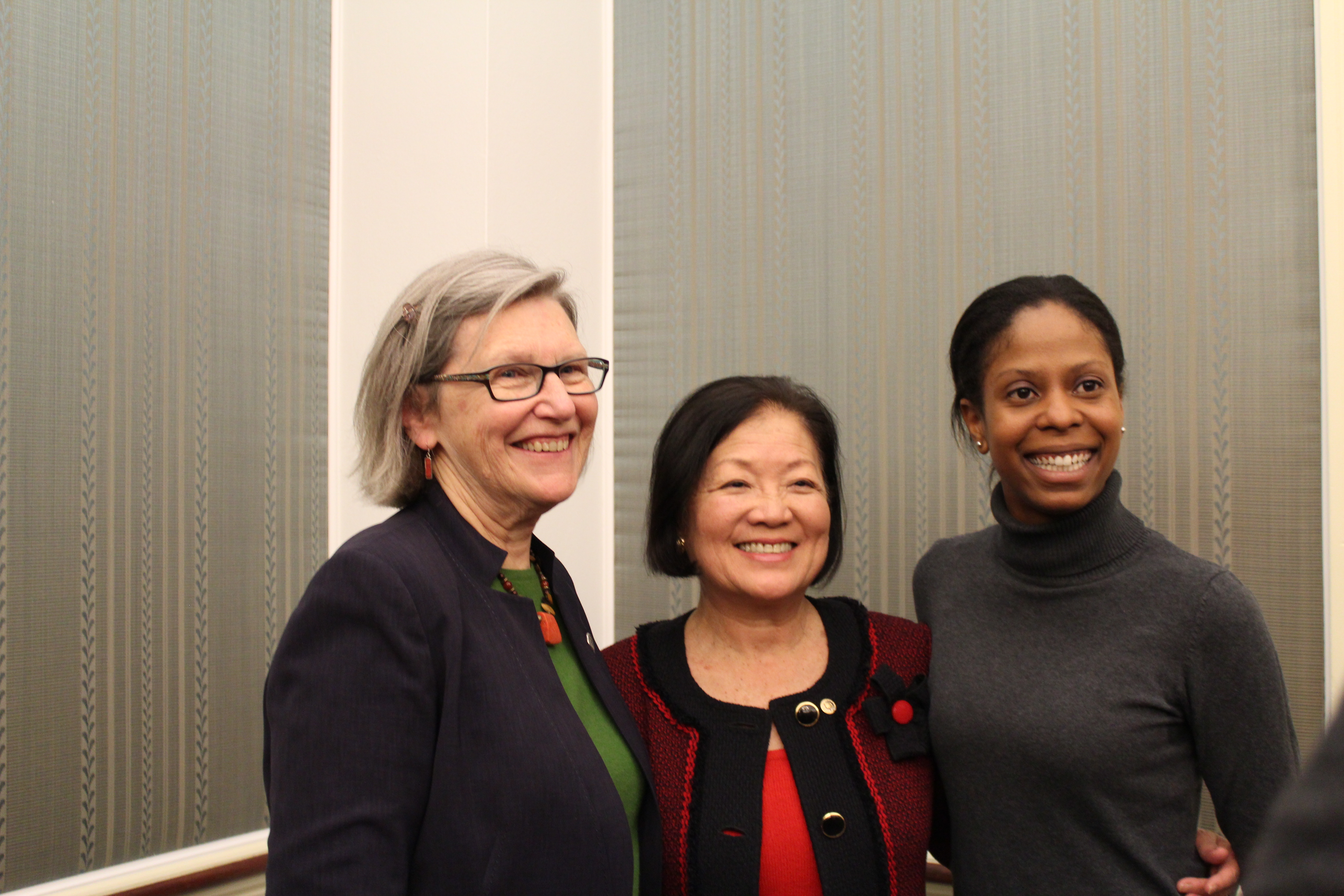 Hirono with Sister Simone Campbell (left) and Nyah Potts.
---
---
Next Article
Previous Article