March 06, 2015
ICYMI: ALOHA FOR SELMA: HIRONO, TAKAI TAKE LEI TO SELMA FOR MARCHERS
Hirono, Takai To March Across Edmund Pettus Bridge This Weekend, Present Civil Rights Leaders With Flower Lei
Washington, D.C. – This weekend, Senator Mazie K. Hirono and Congressman Mark Takai will travel to Alabama to commemorate the 50th anniversary of Bloody Sunday. Selma On Saturday, Senator Hirono and Congressman Takai will join civil rights leaders, President Obama, and a bipartisan group of lawmakers in marching across the Edmund Pettus Bridge in Selma. Senator Hirono and Congressman Takai plan to present flower lei to civil rights leaders commemorating the march, just as Rev. Abraham Akaka did for Dr. Martin Luther King Jr. in 1965.
This is Senator Hirono's second trip to Selma to commemorate Bloody Sunday, she previously went in 2009. Be sure to follow @MazieHirono and @RepMarkTakai as well as #AlohaForSelma for updates and photos from the weekend.
Watch Hawaii News Now's coverage of Senator Hirono and Congressman Takai's trip to Selma, Alabama & read the full article below: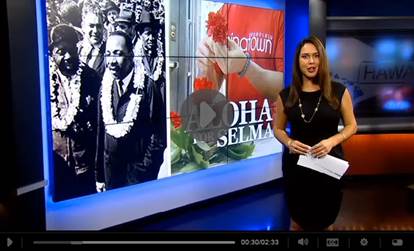 Hawaii News Now: Aloha for Selma: Hawaii Congressional delegation takes lei for marchers
By Mileka Lincoln
March 6, 2015
HONOLULU (HawaiiNewsNow) - A small lei shop in Chinatown has been tasked with a huge honor -- it's making the gifts that will be presented by Hawai'i's Congressional delegation in Selma this weekend.
The Hawaii lawmakers are heading to Alabama to commemorate the 50th anniversary of the historic "Bloody Sunday" march led by Dr. Martin Luther King, Jr in Selma and keeping with custom and tradition, they are not going empty handed.
During the third Selma-to-Montgomery march in 1965, the Reverend Dr. King, Jr. and others were photographed wearing lei -- gifts from Hawai'i's beloved Reverend Abraham Akaka.
On Saturday, that legacy will continue.
"We're gonna commemorate the 50th anniversary of Bloody Sunday by presenting the marchers with lei to remind us that the fight for equal rights, equal protection, voting rights continues," said Senator Mazie Hirono, who along with Representative Mark Takai will join President Barack Obama, other lawmakers and civil rights leaders to march across the the Edmund Pettus Bridge in Selma.
"I believe it's that important for Hawai'i to once again share our aloha and let the people throughout the world and the nation know that Hawai'i, although we were only a state for 6 years in 1965, played a symbolic and I believe significant role," said Congressman Takai.
The local lawmakers felt it was important to bring the makana -- or gift of aloha -- from home, so they selected a local lei shop, Lin's in Chinatown.
"It's exciting to know that it goes to an important event like this," said Tony Nguyen, Lin's Lei Shop manager.
Employees strung the 150 lei earlier this week and shipped them out Wednesday.
"Mostly was orchids, got some maile and some double carnations," said Nguyen.
The double carnations are a nod to the same style that was given to marchers 50 years ago -- another meaningful gesture for a significant moment in both our nation and state's history.
The lei are expected to arrive in Alabama tomorrow.
---
---
Next Article
Previous Article