WASHINGTON, D.C.- Senator Mazie K. Hirono reaffirmed Chairman of the Joint Chiefs of Staff General Joseph Dunford's commitment to protecting Hawaii from the North Korea threat, and continuing strong support for Hawaii's military resources ahead of his confirmation hearing. General Dunford also provided an update on his recent visits to China, Japan, and South Korea.
"Through recent meetings with the leaders of China, Japan, and South Korea, General Dunford has taken an important step to develop a unified diplomatic and economic response, as well as a strong military deterrent, to ongoing challenges in the Indo-Asia-Pacific region," said Senator Hirono. "I look forward to continuing our dialogue as the Senate moves forward to address military priorities for Hawaii and the Indo-Asia-Pacific region."
In a personal meeting, Senator Hirono questioned General Dunford on efforts to improve military readiness and prevent future incidents such as the recent tragic Naval collisions in the region and the Army Black Hawk helicopter crash off of Keana Point, Hawaii. General Dunford also discussed the administration's commitment to placing an advanced defense radar in Hawaii.
Senator Hirono will have further opportunity to question General Dunford at his confirmation hearing expected later this month. General Dunford was first nominated to the position by President Obama and was unanimously confirmed by the Senate in July 2015. If reconfirmed, he would serve a second two-year term.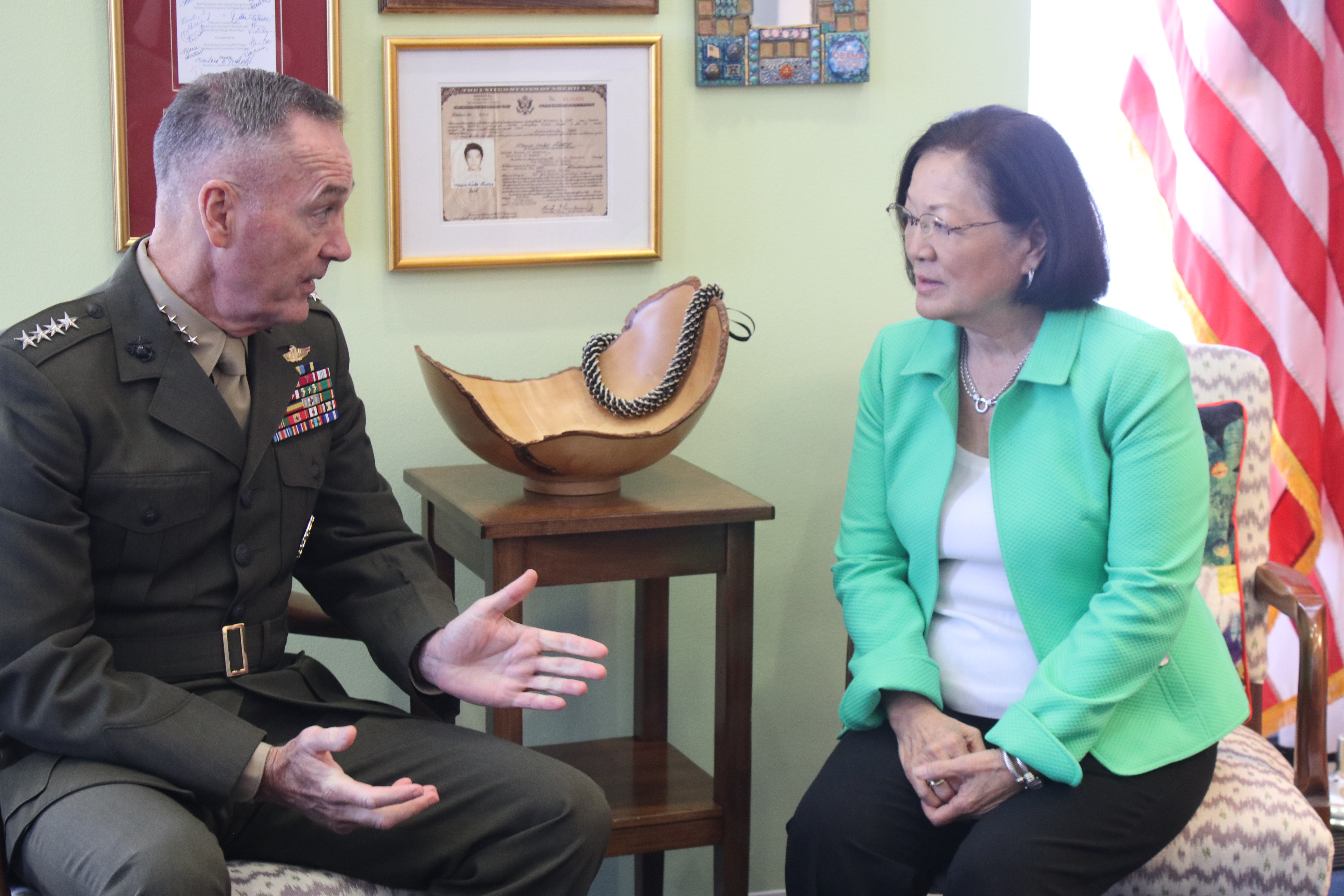 General Joseph Dunford and Senator Hirono discuss his upcoming nomination hearing.
###